Silva UltraMind User Experiences
Read What People are Saying About this Program
Nothing speaks for Silva UltraMind better than success stories from our graduates. We have received hundreds of success stories and have indexed them in this section for you. Most of the letters here are recent (from the past 12 months).
Everybody should learn this
"This course should be taught in every school in the world, no, to everyone in the world!"
~ Peter K from Milford, PA
Using the Techniques Every Day
"Thanks again for the great seminar. I enjoyed it very much and I use the technique every day. I am trying to integrate the healing techniques in my work with other alternative therapies and I am really excited about it. Many amazing coincidences brought me here and I never really understood, how that happened. Thanks to the seminar it all makes sense now and I can work more conciously on drawing even more "coincidences" into my life, which I certainly do. It works! You did a great job on leading the seminar."
~ RJ
We Owe It To Ourselves To Make Our Lives Better

"The Silva Method has by far been one of the most influential personal development programs I have done. It's amazing how much you can do with your mind if you know what to do. I strongly recommend everyone apply this method. It absolutely works. We all owe it to ourselves to make our lives better and better."
~ Rola Diab from Chicago, IL
"Nothing Short of Remarkable!"
"Deciding to take the Silva Ultramind course this summer was the best decision I've ever made. It changed my views on everything and it makes me see thing in a whole new light. The successes I've had with the course are nothing short of remarkable!

That's the fun part of having taken the course. You can create your own little experiments and prove it's validity by programming little things to appear into your life. And as your confidence in the methods improve, so will your results.

The best thing about taking this course is that it can literally change your life within a few weeks for the better, and in doing so give you a sense of hope and optimism that you've never had before.

This makes you see the 'glass as half full' and always leaves you in a good mood. Ever since the course I've been happy and nearly stress free. The money you'd spend on taking the course, is nothing compared to what you can get out of it. In fact, in most cases I'd say you can use the techniques explained i n the course to make back that money in no time.

I'd recommend this course to anyone who wants to increase the enjoyability of his or her life."
~ Omar from Toronto, Canada
"I Saw Results after a Month."
"After attending a Silva Seminar, I don't let any negative thoughts affect my life."
~ John from Toronto, Canada
Best-Selling Author Dr Wayne Dyer on the Silva Method

"I've used the Silva Method for many years. It has helped me overcome my own illnesses. I urge you to attend Mr. Silva's training sessions that are presented around the world."
~ Dr. Wayne Dyer, best-selling author of Real Magic and the Power of Intention
Best-Selling Author Shakti Gawain on the Silva Method

"One of the earliest workshops I took was the Silva Mind Control Course... The most important technique I learned in that course was the basic technique of creative visualization... Our rational mind is like a computer... The intuitive mind, on the other hand, seems to give access to an infinite supply of information. It appears to be able to tap into a deep storehouse of knowledge and wisdom..."
~ Shakti Gawain, author of numerous books, including "Creative Visualization" (Bantam Books, 1983)
It gives us the ability to awaken with that bright idea or solution to a problem
"Prof. Clancy D. McKenzie, founder of the American Mental Health Association, uses Silva techniques since 1969. With the help of the creative insights that he gained at the alpha level, Dr. McKenzie made a major medical breakthrough in understanding the cause of schizophrenia and depression that has helped more than 9,000 patients. He explained that he uses the Silva techniques to help his patients in many ways:

" I first learned the technique from the Silva training in September, 1969, and I have been using it ever since. You may have heard about problems being solved or discoveries being made during sleep or during the dream-state. These mostly are sporadic events, in which people just happen to awaken with a bright idea.

The programmed dream is different. It gives us the ability to awaken with that bright idea or solution to a problem, any night, at will. When you fall asleep you reach just as deep a level of consciousness but you are unaware of this state and how to use it.

Utilizing the techniques, you will be able to spend one minute prior to going to bed to formulate a question, and one minute when you awaken to retrieve the answer. There are two techniques I use, and more are taught in the Silva training program.

The first technique is to decide to have a dream about a problem, and decide that the interpretation of the dream will reveal the answer. You further must decide to awaken at the very end of the dream, remember it and write it down. The second technique is to decide the mind will work on a particular problem throughout sleep, and that when you awaken, your first thought will be the answer.""
~ Prof. Clancy D. McKenzie, founder of the American Mental Health Association, uses Silva techniques since 1969
Helps Improve Attitude

"There are several ways the Silva techniques can help people with disabilities. I know of many people who have used them very effectively... including myself. First, the techniques help the individual in coping with the situation. Some people grow bitter when they are hit with a serious problem, but that doesn't help in any way. When we improve our own attitude about the situation, this has enormous benefits. There is less stress on the person with the disability, and they have much more energy they can use to cope and deal with life."
~ Bill Sturdevant, Silva Instructor from Juneau (Alaska)
How the Silva Method helped Richard Bach complete one of the Greatest Books of our Generation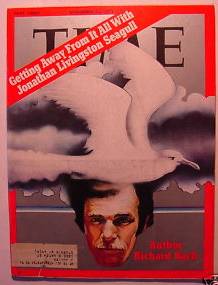 "Best selling author of "Jonathan Livingston Seagull", Richard Bach, said in an interview in Harper's Bazaar magazine "It was the weirdest experience of my life. I was walking along one night, worrying about the rent money when I heard this voice say 'Jonathan Livingston Seagull'. But no one was there. I had absolutely no idea what it meant. When I went home, I suddenly had a visualization of a seagull flying along, and I began to write. I just put down what I saw. Richard Bach praised the Silva course publicly: "Mental discipline and creative visualization are what's behind the power of the Silva Method", he said in an article in Harper's Bazaar magazine. His book went on sell over a million copies and even made the cover of Time Magazine."
~ Richard Bach, Best-selling author of publishing phenomenon "Jonathan Livingston Seagull"
ESP in advertising

"Linda Arnold, the founder, chairman and CEO of The Arnold Agency shared "The Silva techniques have become part of the daily routine at the Arnold Agency. They help in every aspect of Agency work: The creative work that we do, business management, client relationships, and they help us stay healthy in this stressful business."
~ Linda Arnold, the founder, chairman and CEO of The Arnold Agency
We're so much stronger than we think
"We waste too much of our time dragging ourselves under. If we spent one half of it just researching in our mind how to deal with life, we'd find we're so much stronger than we think. (She became a Mind Control graduate on the recommendation of another graduate, opera singer Marguerite Piazza)."
~ Carol Lawrence, Famed Broadway Actress of "West Side Story", "The Sound of Music", "Funny Girl" and more. She earned a star on the Hollywood Walk of Fame; the first recipient ever in the category of "Live Theatre". from Chicago
Author Richard Bach on How the Silva Method influenced his Life

"Richard Bach, Silva Mind Control graduate and author of one of the "hottest" books ever written, Jonathan Livingston Seagull, explains: "Creative visualization is really what's behind the Silva Method; that is, whatever you can visualize, you can actualize" That is putting it squarely on the line. It is putting teeth into the old saw, "What man can conceive, he can achieve." If you conceive of "a good day,"... Need I finish the sentence? Everything works better when you work; but objective work, as productive as it is, is not the only work you must do. You must also do subjective work using ten cycles per second to resonate with other minds and to get everything to work still better."
~ Richard Bach, author of "Jonathan Livingston Seagull" from United States
The Silva Method is what I want for all the people I know and with whom I work

"Dord Fitz - art professor, the Renaissance man born in Oregon: personally known by the top artists in the New York City, founder of Dord Fitz Art Center and guest speaker at NASA has this to say about Silva Method:"I am interested in Jose Silva's system because I feel it helps the entire learning process. The Silva Method is what I want for all the people I know and with whom I work""
~ Dord Fitz, founder of Dord Fitz Art Center and guest speaker at NASA from Oregon
Best-Selling Author Dr. Wayne Dyer on Jose Silva

"Anything with the name of Jose Silva as the author has my vote before I open to page one."
~ Dr. Wayne Dyer, author of Your Erroneous Zones, Manifest Your Destiny, Real Magic and the current best-seller, The Power of Intention
"Single Most Powerful Tool I Have to Offer Patients"

"About the Silva system, I would say it is the most powerful single tool that I have to offer patients."
~ Dr O Carl Simonton, the research pioneer in imagery therapy for cancer
"You Will See Noticeable Results Quickly."

"We have all heard many times that anyone can control the direction and pattern of their lives if they just know how. In Silva, you will learn simple, practical and safe ways to bring about this control. The Silva Method consists of scientifically researched, tested, proven techniques which you receive in a step-by-step, learn-by-doing manner. You will see noticeable results quickly."
~ Burt Goldman, "The American Monk" from Rancho Mirage, CA
A Forbes Magazine "Entrepreneur of the Year", trains his staff with the Silva Method

"By offering the Silva Method to [our] employees we provide an opportunity to experience for themselves the power of the mind... Experiencing the Silva techniques, rather than just hearing people talk about it, is very powerful. It's like the difference between seeing a travelogue about the Grand Canyon and personally standing on the edge of it... Silva demonstrates that there is no limit to what the mind can do"
~ Robert Stiller, President and CEO of Green Mountain Coffee Roasters and Forbes Magazine 2001 Entrepreneur of the Year
RCA Records Endorses the Silva Method

"Most companies recognize the value of having capable and motivated people on the payroll. The Silva Method has provided a definitive way of allowing people to be self-motivated. ... The course clearly depicted a way for all to enrich their lives, to gain better control of circumstances which, in the past, may have negatively affected them. I am grateful for understanding this rather uncomplicated way of approaching my job and personal life and I know that RCA Corporation will come out a winner also for having endorsed such a progressive program."
~ J.K. Mangini, Divisional Vice President, Occupational Services, RCA Records
Silva Helped us to make things happen in the company
Helped me to Manifest My Dreams.
"Changed My Life...Nothing has been the same since..."

"In 1972 I changed my life. I went to a class to learn the Silva Method and nothing has been the same since. I credit that as one of the most important things I have ever done in my life. Above all, it helped me learn how to use more of my mind for a positive, special life."
~ Neal Boortz, Nationally Syndicated Radio Host, The Neal Boortz Show from Atlanta, Georgia
Article from FORUM Magazine: "It Works - And It's Fantastic"

"Graduates of the course have been able to stop smoking, lose weight, give up drugs, sleep without pills, and wake up on time without an alarm. They've found themselves having more creative ideas, discovered they could at last write that novel, win at love, pay the rent...in short, achieve whatever it is they want to achieve in life. And for those who aren't sure of what they want, there are techniques to help them find out.

Personally, I felt profoundly enriched, as if I had rediscovered a wealth within myself, as if a door had opened to me that was open in my childhood, but which had closed over the years."
~ Judith Glassman writing for FORUM: The Magazine of Human Relationships. Judith Glassman is a medical and science writer/investigator whose work has appeared in many national magazines.
"I Was Still Always Searching. Until I Found The Silva Method"

"I could write a novel on how my life has changed over the last two years. I hated my job, frequent fights with my husband who I love with all my heart, taking care of aging parents, just feeling sorry for myself thinking life sucks. Then I watched The Secret and everything changed. That was my starting point in changing my direction.
People began noticing the difference in me. My marriage became stronger and more loving, I didn't react to situations like I used to and I became Happy again. Things were improving, just not my financial situation, so I was still always searching. Until I found The Silva Method. I requested the free training program and listened and bought the course the same day. I felt like I was finally home!!

I am so excited to start my new program and digging into the information. My life can only start getting better, better and better, very appropriate to start a brand new year. I can't thank you enough for your knowledge and compassion and hope to meet you all face to face, I feel like you are my long lost family! Happy New Year to the Silva group, you are in my prayers every day."
~ Helen Fowler
"I'm Loving It"

"I have been using self-help programs for a couple of years now. I am always searching for ways to improve my life and find fulfillment. I stumbled upon the site while I was surfing on the web looking for techniques for achieving deeper levels of meditation.

I feel much better and I've only had the [program] for about three weeks. It's still gonna take a bit of work but I'm certain I will find fulfillment in my life using the program.

I would without a doubt recommend the Silva Method. I have actually already started recommending it to friends and family. I'm loving it!

Top Notch Stuff! My need for always wanting to improve my life attracted me to the Silva Life System."
~ Reinhard Leopold from Graz, Austria
Overcoming obstacles

"I credit the Silva Method program, as the saver of my life, for helping me to develop my spirituality in many wonderful ways and become a much happier person while helping others in many ways.

My path to Silva has been a miracle. After my ex-husband left me I was crying every day and my friends were calling daily and inviting me left and right to keep me company. One day a friend called and suggested I listen to unusual story.
She visited her home town (Bucharest, Romania) and met a former university colleague who asked her to find the phone number of a former friend who lived in Germany. My friend took a while to locate this person she never met and finally found her; out of nowhere this woman shared with my friend how her life has been turned around in a miraculous way after attending a Silva method seminar.

After the course I started meditating and programming for my divorce to go through without any conflicts and in another miraculous way it did; even if my ex hated me and couldn't stand talking to me, he helped me sell the house, even pack and move.

In 2005 I also took the Self Healing course where I met Kaykhosrow (Kain), another amazing instructor from whom I learned different and more advanced techniques.

To conclude, I am looking forward to be part of a Silva grads group after being part of one for almost 3 years; I continue to be part of this group, and the great Silva family, via email, every time there is a health case and the need to help with energy and healing."
~ Carmen Gheorghe - Vaughan, Canada
Jack Canfield says "Work with the source directly...the Silva Method"

"I've been involved for 39 years in the human potential movement. I've Taken hundreds and hundreds of groups, studied every approach and methodology that I've ever found and I want to tell you that the Silva Method is one of the most profound approaches to the human potential movement that I've ever discovered.

Literally Jose Silva and the work that he did, and the instructors have done over the years has influenced every major approach from EST to Landmark to Lifespring to Insight to the work I do etc.

And so its really critical, if you want to take and go right to the source where much of this works comes from, why work with the people that have evolved from it? Why not work with the source directly and that would be to work wit the Silva Method. And so I want to strongly encourage you to get involved with the Silva Method. And take your life to the next level in terms of health, wealth and happiness. You owe it to yourself to do that."
~ Jack Canfield, Best-Selling author of the Chicken Soup for the Soul Series of Books, Featured Teacher in "The Secret" and author of the Success Principles from Napa, California
"Yes, I would recommend it to anyone and everyone."

"I have been utilizing the Silva System for about 2 weeks and have found it to be an effective method of concentrating my personal energy and focusing it on the the goals I want to accomplish. I have greater concentration, more focus and more positive energy than I had prior to the program. I have also noticed that there are more coincidences in my life with positive outcomes, I seem to be functioning in a harmonic flow rather than constantly running against the wind. This product has my complete endorsement, it is relatively inexpensive, can be accomplished by anyone in their spare time, yields immediate results.

Yes, I would recommend it to anyone and everyone."
~ Dr. Edward F. Knab from Palm Springs, CA
It gives us abundance of love, of health and all the good in life
"I discovered the Silva method through an old book of Jose Silva, and then purchased the home course. At that time, I was a single parent with two very young sons and no home to call my own.

A single woman in India is easy prey, reviled and looked down upon. I found myself a job and I practiced regularly and concentrated on abundance.

Today one son is is pilot, another is doing his engineering and I have my own home. The Silva Method works. It gives us abundance of love, of health and all the good in life. Any time I had debts and bills and any sort of crisis, I would breathe deeply, count from ten to one, and feel calm and positive.

What Silva gave me was stability, a stress free mental frame with which to deal with life. I am deeply grateful to Silva for helping me go through life with my head held high."
~ Ritu Lalit
I apply Silva techniques everyday for a better life
"To watch this testimonial please click on the following link:

http://www.youtube.com/watch?v=_rz1X0C_l_Q"
~ John - New York, US
Silva Method enriched my life in every way
"To watch this video please click on the following link:

http://www.youtube.com/watch?v=9oLQSkfGeok"
~ Henry - United Kingdom
I am gleeful to say the SilvaLifeSystem has taught me a whole new way to 'meditate'

"My goal for using the SilvaLifeSystem was to improve my intuitive and healing abilities.
I also felt I need to increase my concentration and retentive abilities because I have made a goal to start college courses in the fall and since I have been out of "school mode" for 20 years. I will be testing the exercises out while I study and test. I expect to be successful in school through using the exercises. Time will tell how well I am able to incorporate it in school.

My work experience has become less stressful and more productive. In the past two months I have been able to not only meet but exceed my goals with so much ease that it almost seems incredible that I'm capable of doing what I'm doing so easily. I can remember in February this year, feeling so stressed about possibly not meeting the new set of performance goals set by our management that I truly felt my job could be in danger this year...now, all I can do is smile.

My meditation time has taken on a whole new dimension. I've struggled so much through so many years of getting to a point where I felt I had achieved a good meditation practice and would give up because I would have that "great" experience once and then not be able to get there again no matter how hard I 'allowed' or 'let go' or whatever keyword or theory I was trying at any given time. Since 1989 I've been able to recognize deeper states of mind on those rare occasions. I am gleeful to say the SilvaLifeSystem has taught me a whole new way to 'meditate' that is not meditating at all. To be able to, on an extremely consistent basis, reach those deep levels of being that I have instinctively felt were beneficial. Plus be able to do it within a short span of time and get results so quickly. I have experienced that which I had not thought possible with full cognizance and done it repeatedly, this has opened up so many new possibilities with me that I feel as if I am only at the doorway of what I am capable of. THIS is the best thing that I have managed to get out of using SLS at this point.

I would definitely recommend SLS to someone else and I have... to more than just one because the depth of results are so impressive I cannot see why everyone would not want to improve their lives and the lives of their friends ans families and their 'circle of influence'.

I would love to be able to purchase Peaks and, at some point, attend a seminar. Eventually, I suspect I will be able to manifest this.

MANY MANY MANY thanks to one of the most awesome thinking men of our century, Jose Silva."
~ Patricia Richie, Albuquerque NM from Albuquerque, NM
I have learned to appreciate what I have and enjoy the day as much as possible
"I found Silva Life System through an on-line class I was taking. I am always open to new things to control stress, as I am on disability for PTSD, and after running through the gammet of mental health counsellors, I still was left with dealing with my past without tools. So, I began to gather ways to deal with this - things therapists never even mentioned.
I have studied/taught the martial arts for 25 years, and so expanding the consciousness is nothing new for me. In fact, I quit studying the sword because it opened my mind up far more than I was comfortable with.

Once I began the Silva meditation, I begin to notice results immediately. At first it was hard getting through the 30-minute meditation, I would fall asleep, but as time went on, I was able to get through that. I felt so much better, I signed up for the first offer. These meditations are very helpful. I love the "Daisy Pond," but what has helped the most is the three finger's technique and "mirror of the mind."

I haven't slept much, and the lack of sleep and the immense stress has taken it's toll. There are also nights I keep myself awake because when I do sleep, all I have is nightmares. Being awake is sometimes better. I believe this is why I fell asleep during the meditation, because I was finally able to relax my mind enough to let everything go.

The 3-fingers technique is absolutely amazing. When I lose something, I put my fingers together, and instead of searching for hours on end, I find what I'm looking for in a matter of minutes. When I am stressed, I put my fingers together and imagine being calm, and I calm down.

With the mirror of the mind, I am able to take the stressors and make them disappear - some things have not come back to haunt me since doing this. Some things are not as easy to resolve, though, but I listen to the alpha sound several times a day because it calms my mind.

Now, by applying these methods, I know that whatever I desire will manifest itself. I must be very careful of what I ask for.

As soon as I found how beneficial this was for me, I told my daughter about it, and she has been using the Silva Method faithfully. She talks about the benefits, and I can clearly see an improvement in her attitude.

Now, I live each day as it comes. I have learned to appreciate what I have and not ask for more, and enjoy the day as much as possible, because I never know when that final trigger will send me over the edge.

I am happy that I have found a way to control my stress/triggers as much as is possible."
~ Carol Pickett from Thermopolis, Wyoming from Thermopolis, WY
I would recommend SilvaIntuitionSystem because it works for me

"I started with the free Silva online course.

My goal, in the beginning, for using SilvaintuitionSystem was just to enhance my intuition. Things were very positive but I felt I wanted stronger intuition. I learned more and more, and could plainly see that my meditations were, in fact, happening. I was beside myself to learn I really was influencing energy. I finished the intuition course highly confident and humble as I know great responsibility also comes with meditations and requests.

I'm absorbing all the information I can get my hands on like a sponge. I just finished Think and Grow Rich. Reading the last page of the online book provided by finerminds, Law of Success was recommended. Well, I've owned a copy of Law of Success for 20 years and hadn't finished it. I took it off the shelf and began reading chapter one last night, Master Mind. This morning was the most beautiful morning I've ever lived.

In my meditations now, I mention being responsible.
This morning, I felt new meaning to affirmations like power, confidence, success, money, love, etc.,etc.

My confidence is up 1000%.

I think positively about SilvaIntuitionSystem and other SilvaMethod products. I have my eye on the mind and body healing system because of my deep interest in holistic wellness. I believe that combined methods will help so many people its unbelievable."
~ Regina Hudgins, NW Georgia Mountains from NW Georgia mountains
I am blessed that I found such a wonder!

"I would and do recommend the SilvaLifeSystem to everyone. I can not believe what a change the simple exercises can make. There is not anyone that couldn't benefit from the information, gift of knowledge, that has been passed on through this system. There isn't anything in this life that could change my feelings about what amazing changes this system can teach people to do. It's worth every cent and every minute you invest.

I am blessed that I found such a wonder. the SilvaLifeSystem is a life saver. It should be taught in grammar school to all the children. I'm sure the world would be a better place for it.

It works. I'm proof."
~ Kristine Marchetti, Quebec - Canada from Quebec Canada
Improving health with Silva programs
"My intention to use the Silva Ultra Mind System
was to improve my health, especially I wanted
something to relax my mind as there is a lot of
tension in my work. In this matter I am now
feeling more relaxed, think positively and feel
more confident in whatever decisions I make.

The founder Jose Silva should be commended for
his marvelous works.

I strongly will recommend the Silva Method to
someone but I think the programme of the Silva
Life system should be the initial course.

In general the Silva UltraMind System and other
Silva products are a very good tool to improve
anybody, whether they are seeking for health,
wealth or wisdom. I have only used it for 1 month
and have seen changes in my life especially my
attitudes and perception in living my everyday life."
~ Paul Philip from Malaysia
Increase intuition
"My goal was to learn meditation and to tap into my intuition. Since I started Silva UltraMind System and at the same time Silva Master Circle, I became much more content, peaceful, focused, happy with myself and the world around, wise, calm, organized, loving, patient... I am simply for the first time in a long time capable of feeling happy and content. Thank you Silva!

YES!!!!!!!!!!!! And I did. My sister is taking the same course as me Silva Master's Circle. And she also has Silva UltraMind. My friend got and Silva UltraMind too after I told her about it. My husband is next. I am teaching my parents what I can from your courses. I would get them your courses, but their English is limited at the moment. I plan on putting my daughter through your course when is a little bit older. I would and I will recommend your course to everyone. Thank You Laura and Thank You Mr. jose Silva!!!!!!!!!!!!!!!!!!!

They are FANTASTIC!!!!!!!!!!!!!!!!!!!!!! I love Silva products. All of them. And I am planning on getting ALL of your products AND attending your seminars when they come to my area (San Diego, California). I am super happy with your products. What they taught me - no school in the world can teach you (I wish they would!). Your Silva products brought me back to MYSELF. And I thank you for that from the bottom of my heart!"
~ ALMIRA KIRSCH from SAN DIEGO, CALIFORNIA
"The Silva Life System has been a life saving for me..."
"The Silva Life System has been a life saving for me.

Since completing and practising the Silva Method, I became more aware of my surroundings, grateful all the time despite challenges presented to me. Life becomes a blessing-being here healthy, breathing and able to do things I loved to do, is a true blessings every minute of it.

When you meet with me in person, you won't believe how many BIG AND HEAVY CHALLENGES I am facing, but the Silva Life System gave a whole different perspective and shift in my paradigm.

When you believe, truly believe that the universe is listening to your prayers and what you are grateful for, your opportunity expands.

I may not be logging how grateful I am on my GRATITUDE LOG, however whenever I get the chance I express myself in that helpful GRATITUDE LOG.

AT WORK, I believe that my long over due promotion or reclassification is just around the corner. Why because I don't complaint. Everyday I give my all to my work, I express my gratefulness to everyone who did something deserving a big shout of BRAVO (BRAVO is our quarterly event at work(outstanding customer service award) of expressing gratitude to everyone in the organization who did something good to a client or each other). I provide prompt, accurate and timely solutions to help my management team with urgent cases.

MY PERSONAL LIFE: Amazing things are happening having been connected to the right people since using the Silva Life System. I would like to specially mention Atty. Geoffrey Hutchinson (I think at this very moment he deserves a mention of his name here and can follow his article at http://www.resolvingdiscoverydisputes.com/fighting-the-unlawful-detainer-what-discovery-can-you-do/) whom I found thru a blog. God send as he helped me work on my case and referred me only to the best in the industry. I am grateful for his sincerity and honesty. I believed that I am fighting this case because of people who are helping me along the way, my family, my pets, everyone that continues to give me the hope and the vision of being able to speak for myself and maybe for others who needs encouragement,information and right people.

I almost gave up and willing to let go on my case without a fight. Then there is this clear vision that maybe this is a mission for me to be able to speak to someone out there that are afraid to fight the mortgage fraud and prevent people from losing their homes. I am on a crusade now and by believing and being grateful and aware, anything is possible.

Thank you Mr. Silva, Laura, Vikshen and team of Mind Valley and the Silva Life System.

Yes definitely. See my notes above.

They are simple to use, easy to understand and handy as you are able to continue your study and practise whether you are home, during your breaks at work, or on the go travelling from one city, state or continent.

Thank you Silva Life Sytem."
~ Lorda Rumbaua from San Mateo Bay Area
Silve helped to recover after divorce

"Hello, I purchased the Silva Life System because I recently went through a divorce after 27 years married and then was forced to sell my house and down-size. This wasn't the only negative thing in my life. My life has been non-stop deep emotional injuries for over 8 years.

I bought the Silva Life System because I desperately needed relief from the pain, I needed to exprience something healing and positive in my life. I was also sabotaging my efforts in my business, my life was a big mess.

Since I have been using the Silva Life System my life has changed. I had never meditated in my life and now wonder how I lived without it for so long. The Silva Method has allowed me to relax for the first time in many, many years. I feel so freed from the bonds I was in. I am much less stressed and can think clearer than ever. Now that I am relaxed I hear from my Heavenly Father in situations I need help in.

I believe that God will lead you where you need to go, you just have to listen and obey and that is exactly what happened with me and The Silva Method. I know that God led me here and I am so grateful and blessed.

Thank you Laura, I love your work and what it has done for me!

I would strongly recommend the Silva Life System to anyone and everyone.

We all need to understand who we are and what God has given us in this life. Our abilities are far greater than I ever could have imagined.

The life lessons and the skills that are taught in this system are life changing and price-less.

I think that everyone should learn what the Silva Method teaches. It is what we were born to do and be, it's that simple. The Silva Method makes it easy."
~ Karen from Tampa, Florida
Become a better person with Silva Method
"I hold a very demanding stressful job and wanted not only to be able to relax fully after a full working day but also to enhance my life in other ways in order for me to pass this knowledge and experience on to others.
I have found that since commencing the SilvaLifeSystem i am able to relax more in work, i am able to handle stressful situations more in work and i now feel i can switch off when i get home. I suffer less and less from headaches, my skin looks healthier now that the stress levels have dropped, I find I can go into a quick relaxation mode and recharge my batteries and have more patience and understanding with others. I no longer suffer from insomnia and the children say i am a much better person to be around. Thank you for the experience and the change to enhance my life to a better level.

I already have recommended and in fact have given one of my free gifts to my emediate line manager and we have many a happy conversation the effects and benifits noted from using the system

I think it is a fantastic system and very easy to use, I like the fact that it can be used on different mediums, I have mine on my ipod and listen every night before going to bed."
~ Lynn Pawson from blackpool, united kingdom
Improving health with Silva
"My goal for learning the Silva Ultramind System was to gain a tool for change in my life. Several long standing health issues, and the need to change how I viewed life. I realized that most of my problems were self-created.

First of all, it all seemed too simple to create the kind of change being described. Then I found that I enjoyed listening to the motivational speakers, simply because it uplifted my feelings so. Suddenly one night it came to me very clearly that what I needed to do was listen to each lesson three days in a row and after the lesson, practice that particular technique. Before long the lessons really began to sink in. Being a person who does not focus on task very well, this was quite an accomplishment.

Soon I began to solve a few problems, e.g., I needed to get a very special present for someone and had just about given up finding what I needed. That night I went to level and asked for help from higher intelligence. I was quite specific about what kind of thing I wanted. Then I let go of it. The very next day I found myself drawn to go in a store I often pass and ignore. Of course, there it was, just as I asked.

That was impressive, but there are much bigger and better things I would like to accomplish----like those nagging health problems. Now I realize that I need to go to level to work on them, several times a day. I'm working on that. Very hard for me. Once a day is as much as I can manage usually. And of course, long standing health problems didn't get there in a day or two, so they probably aren't going to go away in a day or two. As I say, I'm working on it.

The really important thing, which becomes clear as you listen to the lessons, is to learn to visualize and state the problem and the solution very clearly and succinctly. Be specific and ordered, in short. Another really good lesson for me.

In the meantime, the process of listening to the lessons and practicing the techniques always leaves me feeling less stressed, more empowered and a whole lot more hopeful about my life in general.

Thank you all at Silva Ultramind for the great work you are doing.

Wish I'd done this years ago.

Absolutely! It puts the power to shape your life in your own hands.

I'm really impressed with quality of the people doing the teaching.

I haven't tried other Silva products

Sorry, I don't have pictures. I'm not that much of a technophile."
~ Margaret McKinstry from Seattle
Silva method helped to relax during MRI
"I used the Silva method of relaxation during a recent MRI. I had to be in the MRI "culvert" for 40 minutes without moving. I had to lay perfectly still and I had no sedation. It was like being in a very small coffin. To make matters worse I had to keep my arm in a position that was causing pain in my shoulder (I have a frozen shoulder).

I didn't open my eyes and I went to my level. I then counted down from 10 to 1 and went to my "laboratory". These are some of things I did while in my laboratory. I redocorated it to my better liking, I had a latte at Starbucks (they are conveniently located just adjacent to my laboratory), I comfortably sat on my leather couch and read my favorite magazine. The 40 minutes went by in no time. I was able to control my mind so as not to go crazy with feeling claustrophobic. When the pain got too much I focused the white light directly on it and I actually felt warmth. So all in all it worked great and I don't know what I would have done without it.

Yes, definately. It works in many situations you would never think until they happen.

I am glad I made the purchase."
~ Rosanne Ellis from Ontario
Loves the Home Study Course
"Thanks Ed and Jose, I ordered the Silva UltraMind ESP System from Nightingale Conant and I love it. I had read about Silva Mind Control in the '70s and used the 20 degree eye angle to some good value even without a regular practice. I am so happy to have the course. I've listened to it all and done the exercises along the way. I'm into a regular practice and happy to be developing in such a fine tradition. It's fine with me to use my comments in the 'what users have to say' page. They won't be disappointed."
~ Kitty Kelly from Monument, Colorado
Life-changing Experience
"The UltraMind system has been a real life-changing experience! I find that I have enriched my life by being able to help other people. I have had tremendous success using a pendulum through the Psychometry technique. Although I am a rather skeptical person, the Ultramind system has helped me to have confidence in my abilities! The main benefit that I gained was increased intuition. I have always had intuitive awareness all of my life but never knew how to use it to my advantage or have confidence in the intuitive thoughts/feelings. By going to level, I have been able to increase my intuitive experiences and have the confidence to follow through on them. I receive many of my messages through dreams or visions."
~ Jen O from Cincinnati, OH
Great Course. Loved It.
"Great course I loved it. I found the course enlightening and felt personally moved by the course. If more people thought the way Jose Silva thought this would be a better world for all of us. I want to personally thank you for putting together such a wonderful course. I was so moved and touched by the course, I thought after I become proficient using these techniques maybe I could become a trainer for Silva."
~ Greg Netherton from Blue Springs, MO
Practice Makes Perfect
"The more you practice, the simpler it gets!"
~ A.H
On the Silva Meditation Techniques...
"Got in one session what may take months learning to meditate."
~ John from MO
Improved Happiness and Spiritual Growth
"I have used these techniques since early March and my life has improved immensely. For the first time in over two years I feel happy and hopeful. I feel a strong connection with higher intelligence."
~ Kim Folsom
Benefiting the Whole Family
"We began listening to the UltraMind CDs last night, my husband, older son (Alex) and I, going as far as the first CD and the Silva Centering Exercise, guided by your voice. Once guided back to full beta awareness, Alex said he felt physically 'numb' while at level, but that the sensations were 'cool'. A pretty good endorsement from a 10-year-old. His list of things he wants to achieve at level is expanding already -- deepening school friendships, programming for his teachers to interact with the class more encouragingly (I loved that one!), etc. We'll be repeating the Centering Exercise nightly for a week or so and gradually add in the other techniques."
~ Catherine
Best Class I've Paid For - Worth the 7 Hour Drive
"If you desire to better yourself, your faith, your family, your coworkers, and possible the world, spend the money for Silva to teach you how to take control of your mind! This seminar was well worth my time, the money, and the 7 hour drive to get there. I was definitely taught several things that will move my career forward, my family closer, and it will allow me to share all my knowledge and wealth with my friends, associates, and the world. Thank you Silva!! I enjoyed every moment. This was the best class I have paid for since my massage training."
~ Mark A. Marchino from New Jersey
Silva Ultramind User Experiences
Personal Development
Spiritual Growth
Business & Career
Health & Sports
Relationships